---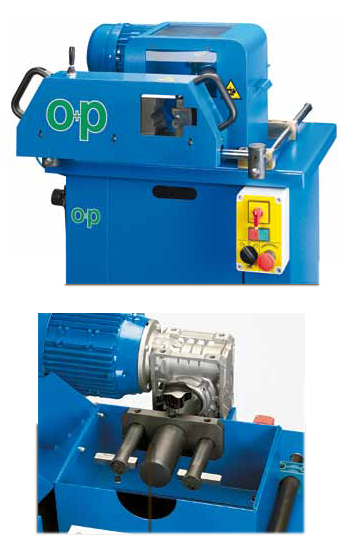 SKIVING MACHINE SPF2 MS
SKIVING MACHINE SPF2 MS
This device allows skiving the internal and external surface of hydraulic hoses up to a 2'' diameter. SPF2/MS is provided with a fixed tool-holder spindle with a double cutter for any hose diameter. This allows considerably saving time given that one just needs to adjust the spindle upon first use without having to reset it at each operation.

MAIN FEATURES:

- pedal-equipped pneumatic control;
- pneumatic clamp for blocking the hose;
- safety protections.
Technical Features
| | |
| --- | --- |
| EXTERNAL SKIVING | 2" |
| INTERNAL SKIVING | 2" |
| REVOLUTIONS/MINUTE | 300 |
| PNEUMATIC INPUT | MAX 7 BAR (100 psi) |
| WEIGHT | 65 KG (140 lbs) |
| DIMENSIONS L x W x H | 685x500x1120 mm (26.969"x19.685"x44.094") |
| STANDARD VOLTAGE | 400V 50HZ 3PH |
| MOTOR POWER | 0.75 Kw (1 Hp) |
| SAFETY PROTECTION | incl. |
| ELECTRIC PEDAL | incl. |
| PNEUMATIC VICE | OPTIONAL |
| TOOL HOLDER | OPTIONAL |
| TOOLS HOLDER STAND | OPTIONAL |
| SPECIAL VOLTAGE | OPTIONAL |
---
---
---
---
---

Driehoekstraat 18
4706 PR te Roosendaal
The Netherlands

+31 (0)165 85 20 50
---

+31 (0)165 85 20 55