---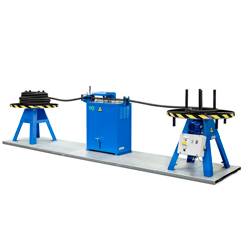 Hose Ø max 75 mm (2.953") - P 3 Kw
SEMI AUTOMATIC CUTTING LINE
SEMIAUTOMATIC CUTTING LINE SEMIAUTOMATIC CUTTING LINE
The new OP cutting line was designed for cutting hoses up
to 2" wound in spirals and rewinding them directly into at
least 5 metre long coils.
The semiautomatic system allows the operator to manage
the step of winding-cutting-rewinding hoses in an extremely
accurate manner and considerably saving time.

MAIN FEATURES:

- modular floor;
- reel roller mechanical brake;
- centring device with meter counter;
- centring device;
- adjustable hose locker;
- mobile reel panel with 5 mt. cable.
Technical Features
| | |
| --- | --- |
| AV01 WINDER | incl. |
| REEL ROLLER MECHANICAL BRAKE | incl. |
| TF2 CUTTING MACHINE | incl. |
| CENTRING DEVICE WITH METER COUNTER | incl. |
| CENTRING DEVICE | incl. |
| AV01EL REWINDER | incl. |
| MOBILE PANEL - 5mt. CABLE | incl. |
| ADJUSTABLE HOSE LOCKER | incl. |
| WEIGHT | 517 Kg (1139 lbs) |
| DIMENSIONS | 5505x1650x1260 mm (216.736"x64.960"x49.606") |
| MODULAR FLOOR | incl. |
| SPECIAL VOLTAGE | OPTIONAL |
---
---
---
---
---

Driehoekstraat 18
4706 PR te Roosendaal
The Netherlands

+31 (0)165 85 20 50
---

+31 (0)165 85 20 55